Sometimes when Im feeling especially slutty and we dont have any prospective partners for me or we are in a new location and I'm looking for a new fuck buddy, we will cruise the truck stops instead of bars. We have found truck stops will usually yield several partners for me. This next adventure Im about to share was no exception. We found a large truck stop full of trucks parked around the building. I wore my short little mini dress that ties on the shoulder with nothing under it but my bare skin.

We followed the sign. It pointed upstairs and read, "Professional Drivers only past this point". The drivers lounge, showers, laundry and driver restrooms were all upstairs almost like a private little club. In the lounge drivers were watching a football game on the big screen TV. There were a couple of couches, several lounge chairs, a few tables and chairs, over all a really nice place for the dozen or so drivers to relax. Hubby and I walked around to the front of the room just beside the TV set. There he pulled on the little shoulder tie of my dress allowing it to drop to the floor. Now I was standing there fully naked with all eyes on me. Hubby announced who needed football when they had a slut wife willing to entertain them.


With that I bent over a table with my butt in the air. I reached around and held my butt cheeks open giving those in the room a nice view of both my pussy and asshole. Hubby asked if anyone was willing to take the first turn in the hole of his choice. He didnt have to ask twice. I had a line of willing partners. First it was simply a line of guys each taking their turns either in my ass or my pussy. Occasionally someone would walk around and request a BJ as another cock was up my ass or pussy. After everyone had a turn, I moved over to one of the couches where I could sit on a cock, have one up my ass and another in my mouth. My favorite position of being airtight.


More truckers kept coming in as word spread that there was special entertainment in the lounge area. Im not sure how many cocks I had while in the lounge area before moving to the showers. Because most of the guys wanted to join me in the shower but there was so little room, they took turns joining me. I washed each trucker and allowed each one to wash me. We sent almost as long in the shower as we had spent fucking in the lounge area. After the shower, one of the guys gave me a large sweat shirt to wear as my little dress had disappeared. Im guessing someone wanted a souvenir.


Now came my little parade as I was invited to visit the different cabs. We all went out into the parking area. I got in every cab where a driver invited me. The guys were more than helpful as they helped by pushing me up the stairs of each cab. Hands were all over my butt, even up my shirt. They were all enjoying a feel as they were "helping" me. Sometimes I would just look around inside the cab or pose for pictures. Other times I would enjoy a quickie with the driver in his bunk. Then everytime I exited a cab I had the same amount of help I had getting up in them. The guys used it as a time for groping and fondling, even pulling my sweatshirt up to expose my breasts. Hell I might as well have not been wearing anything at all. Im sure the guys would have been just as happy maybe even more so.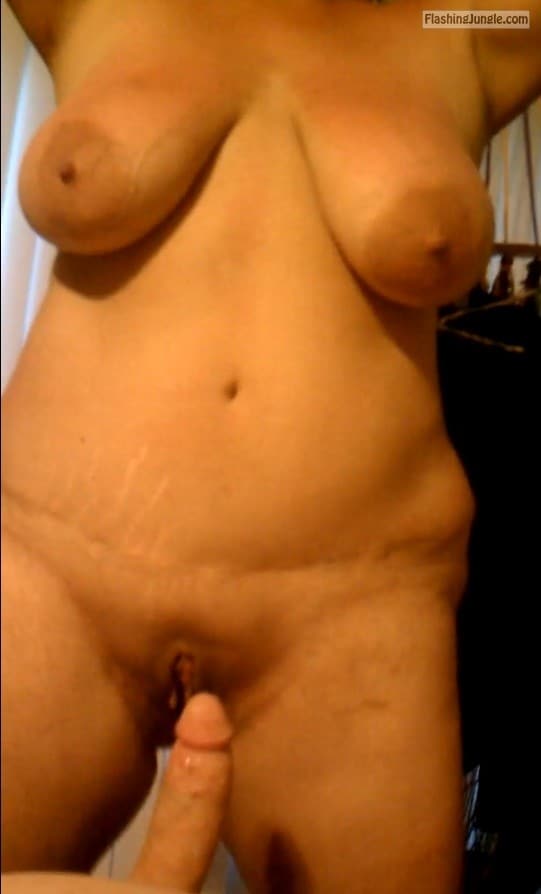 Once I had visited all the cabs that I was invited to visit, I rejoined hubby and my little parade back to the showers to clean up. This time it was a private shower with just hubby and myself as I shared all the details of my evening. Needless to say these details caused a huge growth between my husband's legs. So as any good wife I squat down and took his hard cock in my throat ball deep. It didn't take long before he began shooting his load. I took part of it in my mouth shallowing but also allowed him to finish over my face and tits. We rubbed it in as the shower slowly washed it away. Hubby always returns the pleasure and without missing a beat was on his knees eatting me out. I groaned and my body stiffened as I climaxed, squirting my hubby's face in my juices. I honestly couldnt say how many times I had an orgasm that night but I can honestly say my hubby knows my body well and I was so glad he returned the favor. I felt it from my head to the tips of my toes.
As usual after we shower, we dry each other. For me it is very sexual and romantic to take our time as we dry each other. Of course we fondle and take our time drying those special parts. Once we finally finished drying and getting dressed, me in my sweatshirt that barely covers my ass, we open the shower door to find several more truckers wanting a turn. They had heard thru the grapevine. So I lifted my shirt flashing them from my neck down.
They took that as my invitation as hands were everywhere groping and fondling every part of my exposed body. We went back into the lounge for round 2. This time I layed back on one of the couches openned my legs and told them they each had 5 minutes to fill my pussy with cum until it couldnt hold any more. One by one they each took a turn until everyone had shot their load deep inside of my womanhood. The sweatshirt was still around my neck as I stood up with cum running down my legs. Hubby helped adjust my shirt back over my breasts and as far down my butt and upper legs as it would go.


We walked back downstairs and out towards our car. Several drivers walked with us wanting to know when we might be coming back. That is how I like to leave my partners: pleasured but wanting more. Hubby and I thanked everyone for a great time as we got to our car. I made a lot of new friends, my still dripping snatch was proof of that. We didnt drive straight back to the motel but instead stopped at a Red Robins Restaurant. Hubby loves to take me out when I still smell and look like Ive just been fucked. It excites me too when I see others staring at me and hear them talking about my appearance.
We sat at the bar where my bare butt and pussy made squishing noises against the bar stool every time I moved. It only attracted more attention my way. The creampie deposited earlier was now leaking out all over the bar stool and occasionally dripping onto the floor. I kept my legs open allowing my pussy to drain even faster as I was also flashing pink to anyone looking our way. I also realized the sweatshirt was large enough that I could lean forward and allow a nice view of my tits to any one looking down my shirt. The bartender couldnt stop checking me out and we got the best service ever as every waiter in the place made sure we were taken care of. Just to tease my admirers, I put my cold beer bottle between my legs rubbing it against myself everytime I picked it back up to take another sip.
I purposely allowed my sweatshirt to ride up as we left the restaurant exposing my full butt and pussy acting like I was unaware that I was on public display. The eyes followed me as we walked across the parking lot to our car. I was so horny. You know how much I love exposing myself in public and my hubby is fully aware of how it effects me. I couldnt wait to get back to the motel so I could have another round with hubby.


Once in the room he ordered a bottle of wine to be sent up to our room. He knows I love answering the door naked. I never get enough of those shocked faces when I open the door in my birthday suit. And I wasnt disappointed when the young server arrived. His expression was priceless with his open mouth, wide eyes, and being speechless as I took the tray with the bottle of wine and glasses. His eyes looking me over as I handed him a tip and thanked him. I closed the door with him still standing there not saying a word. Im sure in hindsight he wishes he had asked to come in.


Hubby wasnt done with the surprises. Shortly after we got started being sexual, there was a knock at the door. It was the bartender from the restaurant. Hubby had slipped him an invite to our room when I wasnt watching. In no time he was undressed and I had two cocks to enjoy. When we finally finished, showered together, and got back into the king sized bed together, we all spooned with me in the middle. I love to spoon between two men. It is my favorite way to sleep. I prefer to sleep that way every night. Thus part of the reason we try to find new partners for me every where we travel. If we cant arrange for a partner ahead of time by meeting one of the many folks contacting us from my web exposure, we usually find one or more in a bar or as you have just read from a truck stop or restaurant. I love being a slut wife whore and having a husband who encourages it in every way.
Use me as the slut wife whore I am, Terry Webb