The porn industry is changing and evolving. The current state of the internet is allowing amateurs to become porn stars straight from their bedrooms. It's the era of the independent adult content creator platform. They can share content, promote themselves, and have a direct dialogue with their audience. On the other hand, it offers a much more genuine and realistic porn experience to the average porn fan, who has had enough fake orgasms and bad acting from the mainstream adult industry.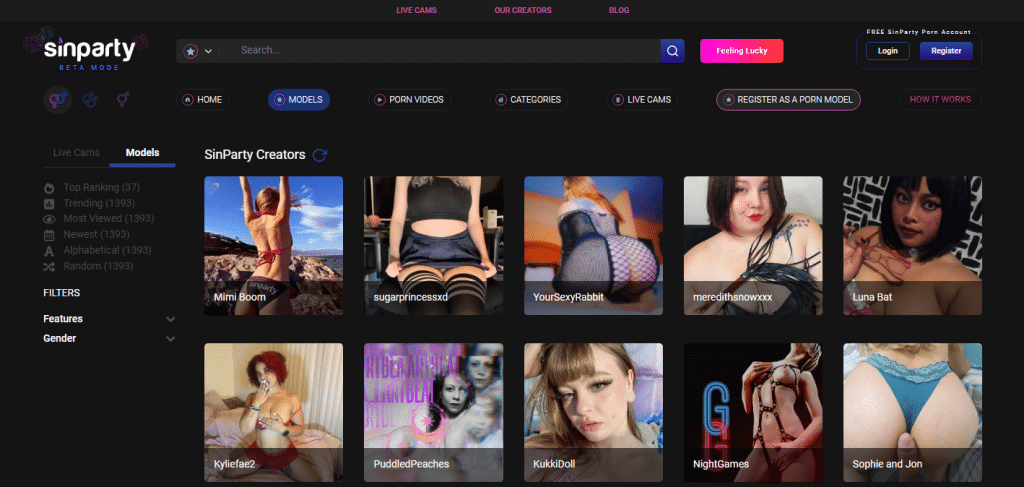 Sinparty is the newest platform for adult content creators. It's still in beta at the moment of writing this review. But it already looks and works perfectly. What differentiates Sinparty from other platforms are all the features and tools that were custom-built to satisfy the needs of both creators and their fans. The platform allows and encourages direct interactions between creators and fans. Besides direct messaging, with the possibility of custom content requests, this site is also doubling as a camming platform, where you can have live sex with your favorite creators.
But what's also cool about this site is the amount of free content that you can watch. The creators do have private content, that can only be enjoyed by their subscribers. But Sinparty encourages creators to also offer free streaming content to the members and visitors of the site. In this way, they can both promote themselves and the platform as a whole. On top of that, Sinparty doubles as a porn tube, where some of the biggest premium porn sites and networks of the moment are offering promotional content for free, in exchange for a registration link to their member areas. The site also runs a blog where they post texts that are actually interesting, featuring sex tips, erotic stories, and news on the adult business.
Sinparty Hosts Creators For All Your Fantasies
At the moment of writing this review, Sinparty is hosting over 1,500 independent porn creators. That's impressive for a new site that's not affiliated with any big adult brand. But what's also impressive is the diversity of porn creators you will find here. First of all, the site comes with both a gay and a trans section, besides the straight one. You'll find a girl, boy, or couple for any type of fantasy. One of the most popular themes on this site is BDSM. There are plenty of dominatrices to put you in your place, plus many submissive slave girls.
There are also some interesting creators on this site, promoting niches that will surely grow big in the following years. SexyGamingCouple is part of them and as the name suggests, they combine gameplay streaming with porn. The end result is impressive. Agentredgirl is also an interesting creator who puts out futanari porn. If you like tgirls and anime, you'll love the sex scenes and the ongoing series of this creator.
Sinparty already hosts creators for all the main categories and some who share content featuring kinks you didn't even hear about, yet. And the number of creators will boom once they launch the final version of the platform. But although they offer so much variety, there will still be lots of kinks that can't ever be pleased by such sites. You'll still have to come on Flashing Jungle for kinks such as true candid topless beach pics, real upskirt photos, public flashing, or real nude leaks. Although the new sites will bring so much innovation, the old-school porn blogs and tubes will never lose their purpose.