Bringing the Big Brother to the Next Level
Welcome to every voyeurs' wet dream! The whole concept of voyeur house is built upon the premise that people want to watch a cross between Big Brother and porn scenes. It functions most of the time, and even though there might be some boring bits during the day, non-stop access to a plethora of cams was more than enough to keep me glued to the screen. The site offers live feed from dozens of apartment of young Euro couples who were willing to let people inside their private world and give up much of their privacy. I noticed cameras streaming from Barcelona, London, Paris and other cities, and the couples are pretty hot if down to earth. But I'm getting ahead of myself – let us take a look at their design! It's cheerful, with clear lines, white background and simple menus. Users can easily switch between different couples (apartments) and there's always something interesting happening somewhere – that's why they have so many couples and cams.
The Action is Pretty Darn Hot
While it's not a non-stop sex party, the site does have an extensive archive of previous recordings which premium members can access any time they want. Free membership is limited to mostly living rooms and kitchens, and resembles the usual Big Brother format. The action usually takes place in bathrooms or bedrooms, and you will need to be a premium member to access these cams. The cams have a pretty good resolution and the picture and sound are incredibly clear. While I had some occasions when the apartments were kind of empty (these are real people and real lives, and they can't fuck 24/7), the action is pretty hot and deserves your attention. The performers slash participants are quite friendly when they're having sex and they love to give their viewers the best experience possible. Standard membership ($29.95 per month) offers unlimited streaming of all cams, but you won't be getting additional features. Premium membership costs $39.95 per month, or $95.95 for 3 months (additionally, it costs $169.95 for 6 months and $299.95 per year) and it gives you complete control over all site features. That includes playback of every cam stream, access to archived videos and everything can be streaming in HD. Payment options vary from regular credit card payments to BitCoin and PayPal, depending on your location.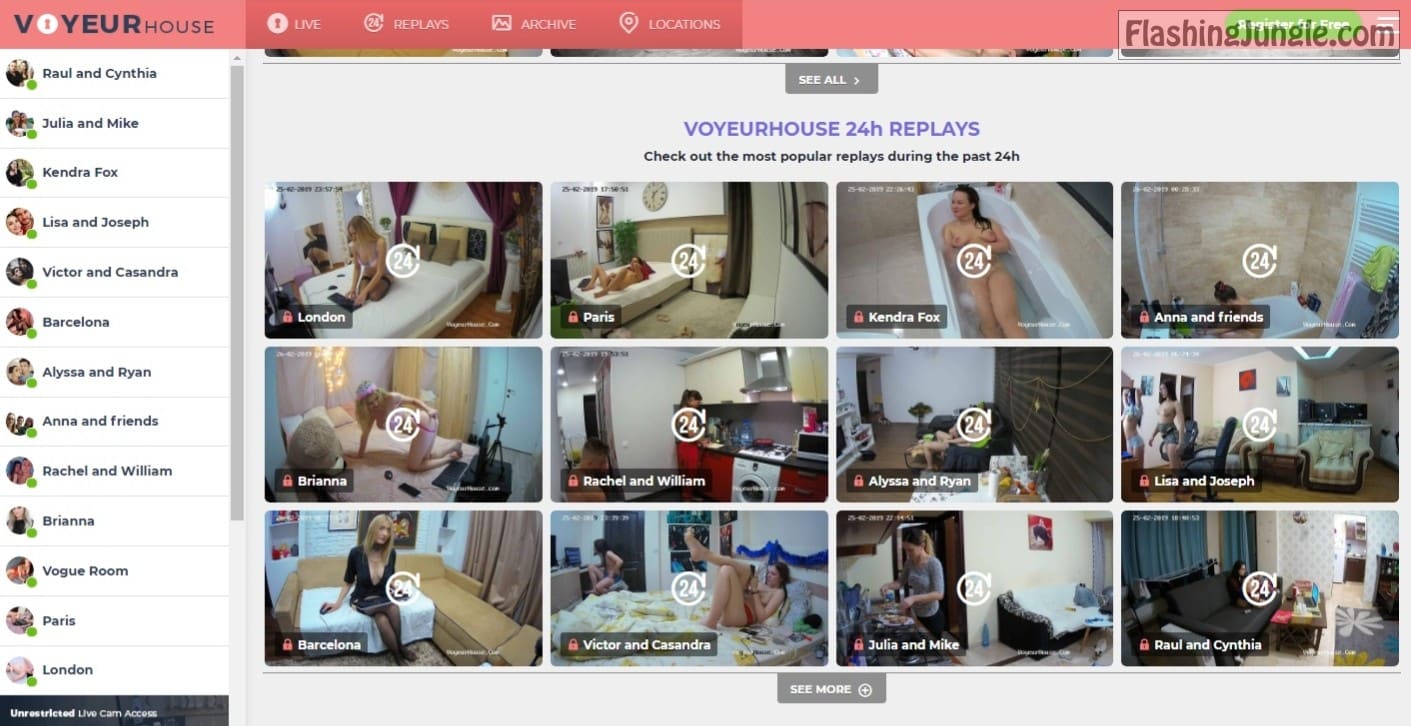 It's Well Worth Your Attention
Additional features on the site include floor plans for every apartment, list of participants, archived moments, full screen streaming, buying gifts for people and so on. One small downside is that not all participants are English speakers, so if you're not well-versed in Spanish or French, you might have some trouble understanding what's going on. However, the cam quality is excellent and I enjoyed using all of their additional features – if there's a particularly sexy moment you can always replay it later. All in all, this is a premium site that offers a new take on the whole porn and voyeurism concepts and manages to produce something new and fresh.