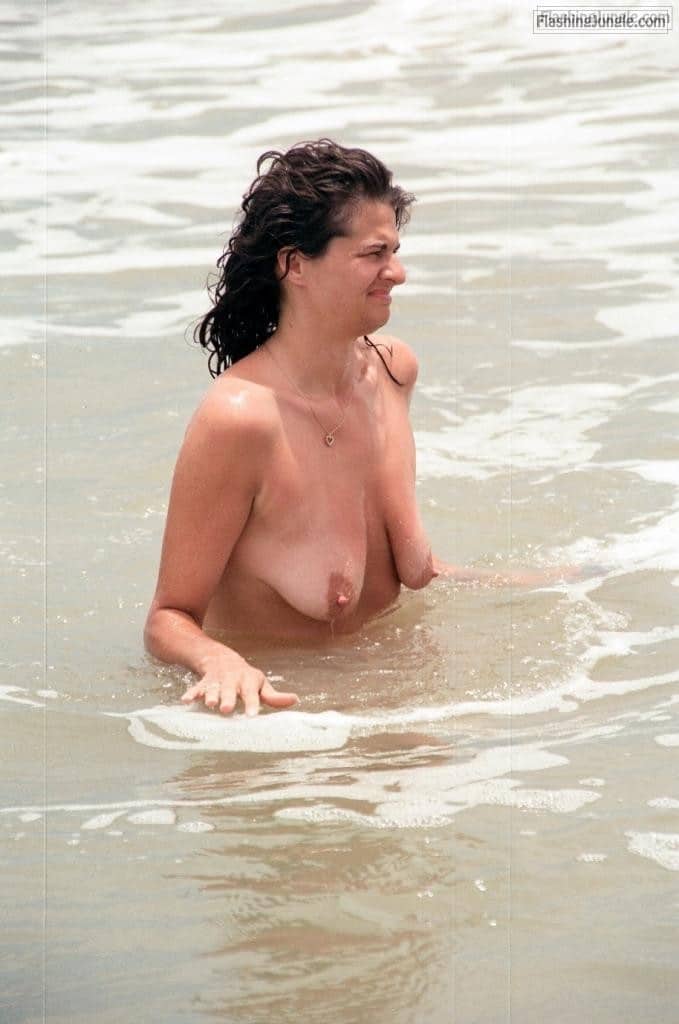 Just had to share my most recent sex in risky places adventure. My favorite risky place is and always will be on a beach. I use to be much more discreet about it by going up into the dunes or at least building some type of screen around us such as towels, coolers, chairs, and the like. Now it is usually fully out in the open where everyone can see me. I love the public exposure.
My most recent beach experience started on a fairly crowded beach. We noticed a a group of young guys had set up a tent canopy and was grilling as everyone was drinking heavily from a huge cooler they had. We figured that would be our spot. Hubby and I ran out into the waves right in front of these guys and began being frisky. Hubby untied my top exposing my breasts to anyone looking our way. The waves splashing against them made them bounce as hubby and I cuddled and splashed each other trying to get as much attention as possible.
In no time hubby had untied my bottoms and was holding me up so I was floating and showing off my pussy as much as possible in the surf. After more cuddling and splashing around hubby announced he had "accidentally" lost my swimsuit in the surf (this is a trick we use on crowded beaches many times, can't tell you how many swimsuits I've lost). I act embarrassed as we walk out of the water right up to where these guys were grilling. Hubby asked if we could borrow a towel explaining how we lost my swimsuit in the waves. One of the guys handed him a towel which he threw around my shoulders barely covering anything. I was offered a beach lounge chair and a beer which I gladly accepted. As I drank a couple of beers I allowed the towel to drop to the chair fully exposing me to all these guys who at this point had drank several beers apiece.
I asked if anyone had any sunscreen and quickly a bottle was handed to me. I asked if anyone would rub the lotion on me and everyone volunteered. Before long I had hands all over me not only rubbing lotion on me but fingers up my snatch and of course hands all over my breasts and ass. I moved to a large beach towel out in the sun to sunbath. I was laying on my back legs wide apart with guys still rubbing the lotion in. I was so wet and horny that I finally asked who wanted to fuck me. That was all it took.
Now not only was I the center of attention for the guys who were grilling but a small crowd was standing around me either watching, stroking their cocks, and most having a turn filling one of my holes. We were attracting lots of attention including that of the lifeguards who must have called the law. All to soon it had to end as two cops walked up threatening to arrest every body. Hubby explained how I lost my swimsuit and after being offered several beers was too drank to fully understand what I was doing. So the cops took the towel I was laying on and covered me as they told everyone to move along. I thanked them for not arresting any one before hubby and I made our way off the beach but not before speaking to our hosts that were grilling and discovering they were a college football team celebrating and thanking us for making their celebration the best ever.