Its me Terry Webb again. I am sending you additional photos but also the story behind how I first learned I was an exhibitionist. You may use my story and photos in any way you desire to include my real name. As usual I enjoy the title slut wife. I am so pleased with how you have brought so much exposure to me and until you choose not to use my submissions I will continue to share my adventures and pics with you. It truly is exciting to do a Google search and see all your links come up.
NOW FOR THE STORY….
"This is how I first learned I was an exhibitionist. Until this one event I was a fairly innocent young wife. I had no idea how much I would love being exposed in public. It all started shortly after we were married when we were on a fairly long drive home from the beach. I wore only a button down shirt (no bra), loose fitting shorts and flip flops.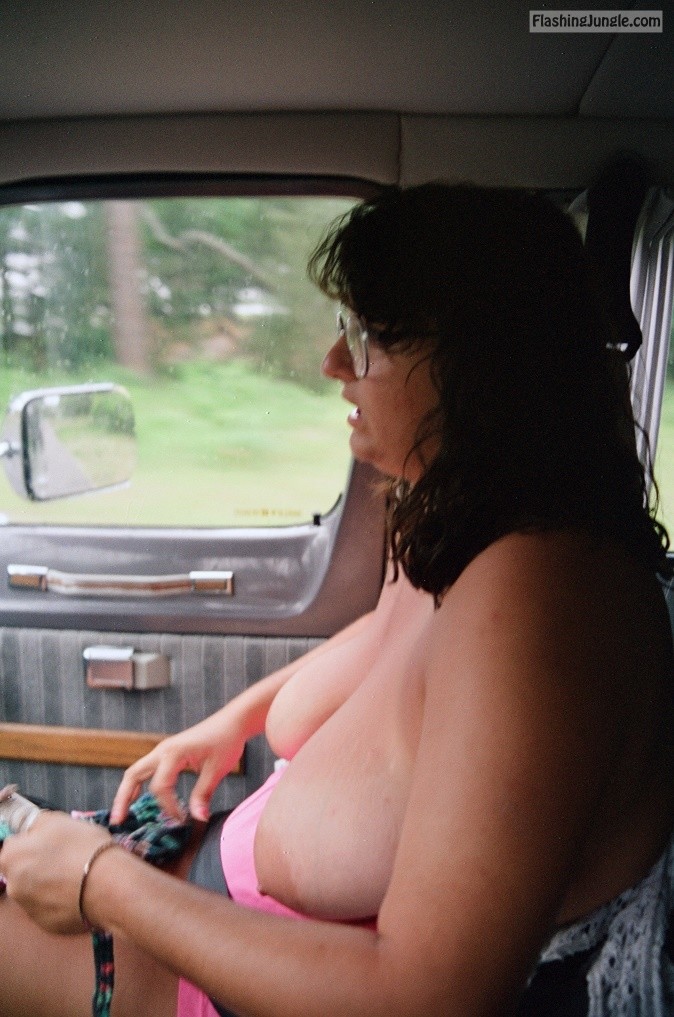 As I was riding in the passenger seat, I dozed off. My seat was back and I was enjoying a snooze. Hubby went to work and unbuttoned my shirt exposing my breasts to passing truckers. Some how as I was still out he had my shirt completely off and on the floor. My shorts were pulled down just enough that my mount was in plain view. Unknown to my hubby I finally realized what he was doing and to my surprise it excited me. I even rolled towards the window to allow a better view for passing vehicles.


Hubby worked on my shorts as I rolled in my chair allowing him to fully remove them as he thought I was still snoozing. I actually climaxed and wet the seat (unknown to hubby) as I realized I was being exposed for every one to see. Hubby passed buses and truckers supper slow and even blew his horn to get the attention of the driver. I saw thumbs up signs and heard truck air horns of approval. My seat was now super wet like I had peed on myself. I could not believe how exciting it was.
As we neared home I finally admitted my part in the production and asked hubby how he planned to redress me and not letting me find out what he had been up too. He admitted that he hadn't thought that far ahead. I then promised a real show for the next trucker before turning off the highway.


As we slowly passed a dump truck I turned side ways in my chair facing the window legs spread wide as I masturbated for the driver to watch. Our turn was coming up so we passed the truck and went off our exit. To my surprise the dump truck followed. Hubby turned into a gas station long since closed. Being late he parked under a street light next to the building. The truck followed us into the parking lot and drove up next to my side of the car. He rolled down his window and took out his camera. I opened my door to allow him a better view. I got so into masturbating and putting on a show I wasn't watching the trucker. He had gotten down from his truck and was now standing between my legs jerking off. It was only when he started cumming on my pussy mound and even my belly and breasts that I noticed he was there. I screamed and slammed my door accidentally giving his Johnson a good slap with the door.
Hubby was still in the driver seat with a huge grin on his face. I told him to get us out of there. I had never been with another man but my hubby before and I felt cheap but excited all at the same time. Hubby and I had been trying to get pregnant for some time now to my surprise hubby was using his fingers to push this other man's cream inside of my vagina.


When I asked what he was doing he explained he was turned on by the thought that this stranger might have impregnated me. WOW was he really okay with that? It actually excited me as I too finished pushing as much of this other man's cum into my snatch. I was still naked when we pulled into the driveway. I was also very excited. I begged hubby to take me right there and right then on the hood of the car. I didn't care if all our neighbors saw us. I practically pulled hubby out of the car as I got onto the hood of the car. He dropped his shorts and made love to me right then. We both climaxed very quickly as we were already so turned on.
You guessed it. Yes 9 months later. Doesn't matter we will always believe it to be a reminder of one of our best sexual memories. To this day I enjoy nude car trips. We've stepped it up to include going through a fast food drive thru with me fully naked to my being nude in the bed of the pick up truck as hubby drives the highways allowing truckers and any larger vehicle to see me fully exposed. I've also taken toys with us to put on little shows.
So this is how it started for me. I learned I love to be exposed in public for every one to see. That is why my pictures are posted all over the web and in many magazines. I will try to be at least topless if not nude on any beach we visit. I've even worn nothing but paint into stores before. Hubby will paint what looks like a swimsuit top and shorts on my body and I see how many looks I get of people realizing it is only paint. Now I look for opportunities to expose myself in public always trying to find new ways to do so."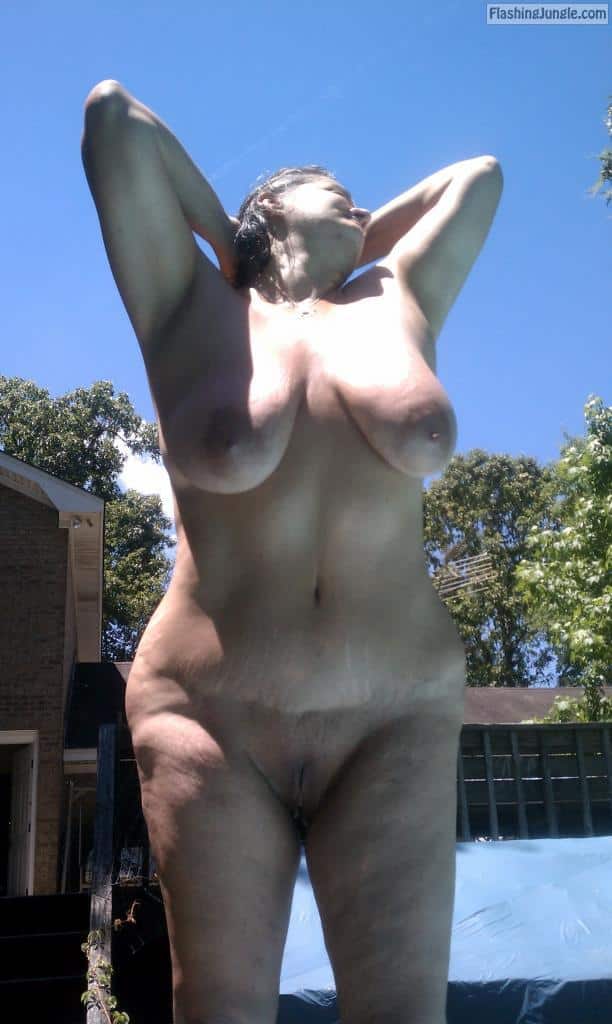 For those wanting to know more about how I went from a virgin bride to a complete slut wife whore keep follow slut wife sex stories for long detailed writings sharing how my exposure in the car grew to where it is today: NO LIMITS ANYTHING GOES NO SAFE WORDS trying to set a record for the most sexual partners in one lifetime. I'm not selling anything only offering to answer all questions with my life story. I want to open my life history of being a slut wife to the world.
Use me as the slut wife whore I am, Terry Webb