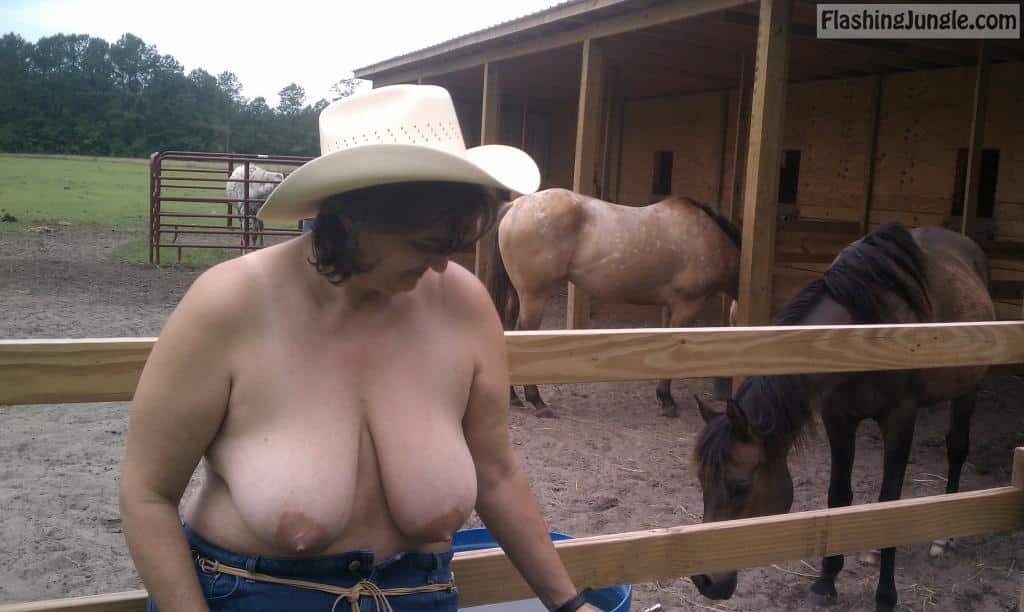 As you already know I love outdoor nudity but combine that with our other outdoor hobbies and you have a real winning combination. Not too long ago we decided to spend a 5 day get away camping. We packed our camping and fishing gear but I did not pack one stitch of clothing. In fact I was naked when we left home until we returned home. It would be 5 full days of wearing nothing at all with whatever exposure that brought me.

We arrived at the campground early the first day. The campground was only about half full with campers moving about when we pulled up to our campsite. Without batting an eye and just as natural as I could be I got out of the truck and helped hubby set up camp. First pitching the tent and then setting up the rest of camp. Yes my nudity was attracting quiet a bit of attention but no one was brave enough to say anything.
Once the campsite was set up we entered the tent for an afternoon delight. We left the door and window flaps open as hubby and I had intercourse in numberous positions putting on a nice show for those campers who kept walking by and looking into the tent. Afterwards we simply layed there on our sleeping bags curled up satisfied with what we had just done yet still very much in full view of any one walking by.
We finally cleaned up a bit (I keep those baby wipes handy when we camp) before grabbing our fishing gear and hitting the lake to fish. You saw our posted videos of me fishing in the canoe. It was also one of my favorite photos I sent of me fishing in my birthday suit. We caught a few fish, mostly bass while hubby made the videos and took pictures. He kept hoping I'd hook into a nice one as he was making the video. He liked watching me land them. He said I was so much into landing the fish that I would turn and twist my naked body into some really fun positions for him to enjoy.
Yes there were other fishermen on the lake. Yes they would row closer to get a better look. Yes a few did row along side of us and made conversation. Yes I did join a few of them later during our 5 days there for some group sex time. I was taking names and campsite numbers.
Upon our return to shore all that attention had me quiet turned on. I was very wet and already rubbing myself. Hubby suggested I go ahead and finish it. I might as well masturbate to completion. There were several of our newly found friends standing around with other campers on shore watching us as we rowed up. You know me the attention only added to the pleasure and I quickly got into it. Hubby began filming it unknowns to me as I was too into what I was doing but Im glad he did as this video is as real as it gets. I was fully into masturbating and I did climax at the end. He caught it all on camera.
Once back at camp it was getting later into the evening and we needed to shower. At the bath house one side is for men the other side for women. The shower stalls are divided by plywood almost like the showers you see in the TV show MASH. You can see over into the next stall but without purposely looking over into it you dont see the person next to you from neck down.
There was a young woman showering in the stall next to the one I choose. She recognised me right off. She wasnt shy either. As soon as I entered the stall she was asking me about how I was able to expose myself as I do. Wasn't I uncomfortable with all those people seeing me even taking pictures. I explained for me that was part of the excitement. She shared how her hubby and she had discussed my activities just before she left for the shower. Her hubby was saying how he wished she was more open like I was. They were also wondering just how open I was because they had always talked about him having another woman join the two of them. They had discussed swinging but had never gone there.
I asked permission to join her in her stall promising to just wash her back and see how comfortable she could be with another woman's touch. After washing her back she turned towards me and I continued on the front side. Going down to my knees as I washed her legs and feet, I took a chance and rubbed her pussy mound openning her lips with my fingers hearing only a gentle groan I began licking her clit and pussy until she reached down pushing my head into her grotch telling me to finish it. Before long she was squirting and practically screaming with delight as she had her first orgasm with another woman.
She suddenly was a bit embarrassed as I returned to my own stall. She asked if I could join her and her hubby to give him his two women fantasy especially being I had already been with her. I told her I would but on one condition, she had to walk nude back to her camper along with me. She smiled and said she would if I walked ahead of her mostly concealing her from prying eyes.
After we showered, I did just that I walked ahead of her as we both walked nude back to her camper. We had a tent but they had a really nice modern camper. When we got to the door her hubby greeted us with a huge smile as he openned the door for us. My new friend explained that we had a wonderful time of sharing in the shower and he missed it but now he would get to have his two women fantasy fulfilled.
He sat on the couch fully clothed as she and I started caressing each other, kissing, and generally putting on a nice little show for her husband. He quickly had his hard cock in his hand stroking it as she and I moved into a 69 position. I was so into eatting her pussy once again that I wasnt aware her hubby was now ready to get into the act. He too was naked and standing behind me. I felt him between my legs as he was getting into position to fuck me. As he was preparing to enter me his wife reached up and guided his cock into me as she started playing with his balls and watching him fucking me from below.
We switched it up as he moved around to fuck his own wife with his cock covered in another woman's juices. I moved away as I watched how passionately they were going at it. He pulled out and requested we both give him oral together something he had only dreamed about. So wifey and I fully fulfilled that desire for him as he exploded covering both his wife and myself in his well built up cum. He asked for one other position before I would leave. He wanted me on his face while his wife was on his cock. He wasnt as hard but his wife was able to get into position to ride him as I buried his face between my legs. Wifey and I were kissing and groping each other's breasts when her husband had his second climax. Wifey and I continued until we also had one for ourselves.
As we all layed there together in their queen sized bed they told me it was the first time either of them had stepped out on their marriage vows and I assured them it was okay because they did it together. Even if they never do it again they would always have this wonderful memory to remember. We promised each other that my hubby could join us next time before our camping trip ended.
It was dark when I got back to our campsite and hubby had dinner ready. I gave him all the details of my adventure and invited him to join us the next day at their camper for dinner and a 4some. He quickly agreed. I knew the details of my adventure had caused a growth in his shorts so I helped hubby off with his shorts and gave him some oral relief allowing him to add his cum to that of the other husbands as he rubbed it onto my breasts.
We left the door and window flaps open as we turned in for the night sleeping as much as possible on top of the sleeping bag so I would be exposed even in my sleep. So ended our first day.
We slept until sunrise the next morning. The glow of the sun shining into our tent woke us up. We were still on top of our sleeping bags with the door and window flaps open. I couldnt help but notice we had a lot of joggers taking their time slowly passing our tent checking for our next show.
Not to disappoint hubby and I started masturbating each other before he moved into postion to start oral on me. I couldnt help but notice this young guy trying to watch without being caught watching. I waved at him to come on in the tent to join us. After some coaxing he finally came to the doorway of the tent where I asked his age and name. He claimed to be 21 though I doubted he looked nearly that old. I asked if he had a girlfriend or even if he had been with a girl before.
He finally confessed I was the first female he ever saw naked in person. I invited him in to join us. Hubby moved over and asked if he wanted to touch me down there. He eagerly reached out and gently rubbed my mound. Hubby showed him how to finger me properly and even move into fisting me. That was all the instructions this guy needed. He was a pro in no time. I asked him if he would like to taste me like my husband was doing when he walked up and he frowned saying he didnt know about that.
Hubby assured him it was something he would like once he tried it. Besides it will give him bragging rights with his buddies. With a little more encouragement he finally tried his tongue at giving me oral pleasure. He was certainly a rookie but he did okay for his first time as hubby acted like a coach instructing him in how to do it. I asked if he would like to try 69 and let me suck him while he was licking me. He didnt hesitate. He quickly switched around and I began deep thoating his very hard throbbing cock.
He was defiantly young. He shot his load down my throat just moments after I started. He was embarrassed and stopped what he was doing to me. I assured him that it was okay. I didnt mind. I still had his less than fully hard cock in my hand as I moved around to rub it against my very wet pussy. It didnt take a lot of rubbing for him to harden a bit more. Not as hard as he was the first time but more than enough for me to slip his virgin cock into my love hole. He seemed to know what to do now as he started thrusting away at me like a dog in heat.
He once again came this time filling my womanhood with his cum. Cheers went up outside our tent as a small group had gathered to watch. Poor little guy. It swiveled up like a prune as he quickly slipped his shorts on and abandoned the tent faster than a race horse on race day. I called out "NEXT" waving and motioning the folks watching to come on in.
After several guys joined us it was my turn for a full body massage with all those hands working all my body parts at once. It was feeling so good as guys wondered in and out of the tent taking their turn to enjoy their favorite areas to rub. Most took a few moments to fuck me as the others continued my massage. It was really nice.
Not sure how long it lasted but when every one had had their turn and it was just hubby and myself again it was time to hit the showers. Sadly just me this time as I quickly washed all the earilier sex off and then walked to the pool for a swim and to lay out by the pool to sunbath. Not much to tell here as it was uneventful other than the exposure I was getting.
Early evening hubby and I visited my new found lady friend and her husband at their camper. She was wearing only a string bikini bottom and no top. Her breasts looked so firm and nice. I could see hubby was checking her out. Her husband was wearing a small speedo banana hammock as we call them. The wife explained how since their time with me the day before that they were trying to be more open and free with their sexuality. That is what they wore out fishing earlier that day. She was so excited as she shared about all the attention she attracted.
We had our meal first. Salad steak and potato as they went all out for us. Lots of dinner talk as we shared about past adventures and what to expect if they decide to get into the lifestyle. After dinner we continued the conversation in the livingroom area as we also discussed our time together and how they felt about it. She admitted how exciting it was but how hesitant she was to be with another man. Would her husband think less of her? Was she ready for that step? I assured her we would do only what she was comfortable with.
Because she and I had already crossed those lines she was comfortable with me. So the girls started us off. I removed her string swimsuit bottom to reveal what little she wasnt already revealing to us and began kissing her as we rubbed ourselves together. The guys had already taken matters into their own hands. Both were naked stroking themselves as they watched us. I asked wifey if the guys could join us as we all kiss and fondled each other. She said that was okay with her. The guys lost no time getting into the act with hands all over both of us ladies.
I asked her if she would like to enjoy 69 with me again. She was quick to agree as I layed on my back and she got on top. The opposite as we had done the night before. This time it was my hubby who moved into position behind her. He rubbed his hard cock along her butt crack and finally her wet clit. She never said no so I reached up and this time it was my turn to guide my husband's cock into her. Her hubby was squatting near them getting as close a view as he could as he was stroking himself. I reached up and took his cock in my hand saying Id be happy to take care of him but he wanted to watch his wife as he grabbed his cell phone to make a video. He asked her to roll over so be could see all of her as he continued to film them together. It was thrilling to me knowing it was their first time swinging.
Finally I convenienced him to join the two of them and to let me have the camera. She was now doing the cowgirl. Riding my husband as she took her own husband's cock in her month. After he was wet enough I encouraged him to try anal while my husband was still in her vagina. To my surprise he tells me she had never allowed that. I assured her it was like nothing she had ever tried to be double penetrated that way. She said it had been a couple of days of discovery so why not. I helped her hubby into position and into her tight little asshole. She was in heaven screaming like she had never screamed before. Both the guys shot their loads into the hole they were using just about the same time as she was having her own climax. It couldnt have been better timed.
They remained connected until both the guys were too soft to remain inside her. I had captured it all on video for them.
She was already spent when it dawned on her. She looked up and asked about me. I assured her I was okay and very satisfied just from watching her have her first mfm experience. Welcome to the club little lady. There is no going back. We continued our visit discussing their new openness and what they might want to try next. She was once again horny from our talk and from all of us still being naked. She offered one more round this time with each wife fucking the other husband. She also wanted to try different rooms this time just to see how that felt. Not seeing your spouse fucking another person but knowing they were.
So her hubby and I retired to the bedroom as my hubby and the other wifey remained the livingroom with the pull out coach sofa bed. We promised to remain apart the rest of the night sleeping with each other's spouse and waking up to one more round of sex before getting back together for breakfast. We also promised to try every position, every hole, as not to leave anything out. She wanted to image her hubby doing everything to me that he had ever done to her including the anal he had just done to her earlier.
So that is what we did. We slept (if you could call it that) with each other's spouses. They were too excited for too much sleep. I could hear them in the other room as Im sure they heard us. I followed her instructions and allowed her hubby the opportunity to do any and everything to me that we could think of. It had almost become a work assignment as I attempted to do everything we could think of. It was less about the moment and more about sexual position and different sexual acts now but it was still a lot of fun.
We finally met back in the kitchen area around noon. We had been with each others spouses for well over 12 hours now. At breakfast they couldnt stop sharing about their night apart. Hubby and I just sat there listening to them excitely telling each other the details of every moment they spent apart. Yes this couple was going to be long time members of the swinging lifestyle.
They agreed to join us fishing after breakfast. Wifey was a new brave soul now. She remained naked along with me as the guys wore swimsuits when we left their camper. We each got a canoe once again with each other's spouses. Both of us ladies attracted our share of whistles and stares as we paddled around the lake casting our lures into the lake for fish as our female lures were doing their trick on the other fishermen. I encouraged her husband to meet a few of those other fishermen and to set up another evening of fun for his wifey. This time with several guys at once. He agreed that would be the next step and how much he would enjoy seeing her being the center of attention.
At was well into the evening when we finally got off the lake. We cleaned our catch and had a fish fry with our new friends before they retired to their camper and us back to our tent. We once again left the door and window flaps open sleeping a hard sleep on top of the sleeping bags having not slept much the night before. Once we did get up I headed for the showers where my new friend was already in the shower. She excitedly told me that she was quickly becoming like me and how much she liked it. Her hubby did invite an even dozen fishermen to join them just after they left the fish fry with us. She had her first gang bang and she couldnt stop talking about it. I could only smile and shake my head. What had I created?
She walked back with me to our tent and sat with us as we ate breakfast retelling her story to my hubby. I know hubby was into her story and enjoying the view of this cute young wifey's naked body from the rise in his shorts. I asked her if she was willing to do a fmf with just hubby and I like we did for her hubby. She was like I never thought you were going to ask. So we repeated our performance from the first time but with my hubby instead. He got to enjoy oral from both of us at the same time and fucking one as he was eatting out the other switching between us being eatten or fucked until both of us wives layed side by side on our backs so he could shot his load across all 4 breasts. She rubbed it in for both of us before excusing herself to walk back to her camper to show her husband that she had been naughty on her way back from the shower. I used the baby wipes and washed off a bit before another fishing trip on the lake.
Hubby wanted to push it up a notch. The show this time when we came back to shore was not me masturbating nor anything sexual. This time as I sat in the canoe legs spread wide apart, hubby reached into his tackle box and pulled out 4 large golden fish hooks. I was afraid to ask. Yes Ive been pierced before many times but surely that wasnt his plan out here in the open for every one to watch.
No surprise. It was his plan as he took the first shiney new fish hook to pierce my left labia then tied fishing line from that hook to my leg holding that lip open. Then he did the same to the other side piecring my labia and tying it off to my leg so now my pussy was wide open by these fish hooks holding it open. He then used yet another fish hook to pierce a nipple tying the fishing line down to the one holding my pussy lip open on that side. Then he repeated with my other nipple piercing it with a fourth fish hook in me now.
He had quiet the audience as he was piercing me. No one left as he helped me out of the canoe with the fishing line pulling at my nipples and pussy lips. As I carefully and gingerly tried walking past the small crowd, hubby encouraged any one who wanted too to reach over and tug on a line. It was a mix of pain and pleasure from all the attention as several in the group took him up on the offer and pulled on the lines attached to my tender special parts. Back at the tent he carefully and gingerly made love to me as not to hook himself. He wanted to see how it felt with my lips pulled so wide apart by the hooks and fishing line. It didnt last long nor did he cum but it was one of the more interesting fucks I ever had.
We left the hooks and line in place as we retired for the night. I curled up and was in a position that allowed me to forget the hooks. That is until later that evening when I was needing to pee. I had forgotten the fish hooks and oh wow did I make a mistake when I stretched. Those hooks dug in and I quickly remembered my piercings. I had woken my hubby up and mostly likely many others with the scream I accidently let out when those hooks bit into my special parts.
I carefully stepped out of the tent going over to some trees where I squatted and took care of my need. Ooohhhh that smarts. The acid in my pee burned the fresh holes in my pussy lips. Thankfully most of my pee missed the wounds as my pussy was still held wide open. I returned to the tent where hubby enjoyed playing with his new toy. Suddenly it was like I was a puppet on a string for him to play with. He pulled on this one and then that one until he had his fill of his new toy. He had played enough that now the piercings had become small slits. I was amazed at how much this amused him. Finally he removed the hooks from my labia and intied the line to my legs. He then tied the lines to my nipples together for a little more time of play pulling on that string.
We left the hooks in my nipples as we went back to sleep. The next morning hubby admitted how exciting my new "jewelry" was to him. This being our last day I agreed to wear my new jewelry home. We put some first aid wound care on the tears in my pussy lips. Now that did burn. I told hubby that he had put that out of commission for a while. Just for hoots he then led me around the campground by the fishing line pulling at my nipples. It attracted quiet a bit of attention as he would let others take turns leading me like a dog on a leash. We used the rest of the early afternoon to pack up.
We stopped at a taco bell on the way home so hubby could show me off with my new jewerly. It was a quick stop before heading home. Once we were unpacked hubby enjoyed a little more time playing with his new toys. He said he loved how my nipples and breasts stretched when he pulled on the fishing line. Finally he showed mercy and removed the last two fish hooks. They too had left their mark, leaving little slits where the hooks once were. We rubbed my nipples and labia down in first aid wound care and in time they were fully healed but until they healed they were a small stinging reminder of a wonderful weekend.
Use me as the slut wife whore I am, Terry Webb
huge tits nude sisters upskirt hot pics family naked nudism pics My wife no panties HD pussy pictures My wife no panties pics